Terbodore Visit Mzuzu Union in Malawi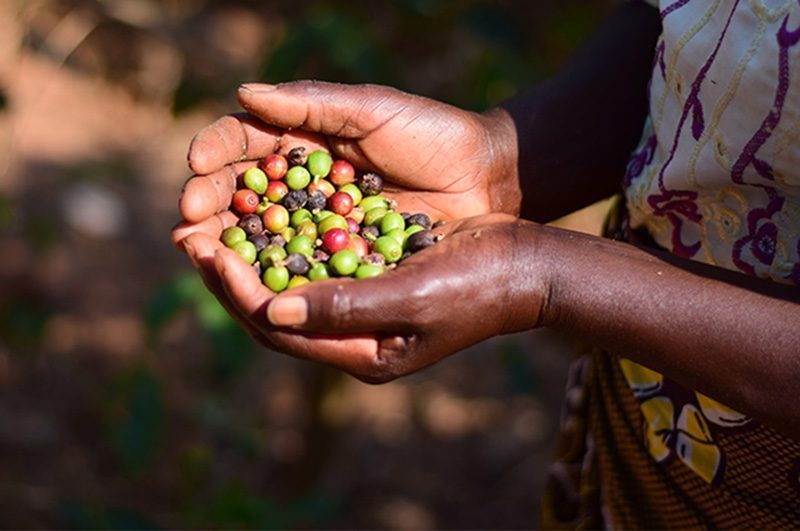 I'm not a big fan of waking up early. I'm the guy that sleeps till the very last minute before springing to action in a sudden burst of effervescence – coffee in hand, ready to greet the day. But this morning; this morning I'm lucky enough to realise a dream of many baristas and coffee geeks alike, of following the journey of our sacred Terbodore beans from seed to cup – learning about cultivation, processing and the distribution of some of the finest coffee I've had the pleasure of tasting. This morning we are going to Malawi!
Waking up before the sun gives me a boyish sense of entitlement, boldly proclaiming "I tell you when the day begins, Sun!" as I walk out my front door is indicative both of my early-morning mental state, as well as my nervous excitement. Since developing my love affair with coffee, I've been fascinated by different methods of cultivation and processing, and how these variations yield different results and I was thrilled to be able to indulge this fascination in a region known internationally as producing some of the best beans available on the international market – the Mzuzu speciality coffee and tea Union in Northern Malawi, a stone's throw away from the Tanzanian border.
After a mentally and physically turbulent flight, I arrived at O.R Tambo to meet my travelling companions; Michael Macaskill from Terbodore Franschoek, Sarah Schach from coffee importers, W.M Kahn as well as Barry Van Hengel from J. Wolff and Co. based in Holland. We arrived in the capital of Malawi, Lilongwe at about midday, and eager to soak up as much of the scenery as possible; I had my camera out from the moment we had stepped off the plane, which didn't really thrill airport security. After deleting the offending pictures and heading through customs we met cheerful and at times fearless driver, Anthony. A four and a half hour drive to Mzuzu stood before us, and Anthony advised that we hit the road as quickly as possible to avoid the dangers of driving at night.
Malawi is experiencing quite a severe drought at the moment, with summer rains expected to arrive at the end of November – and as such, I was surprised on our drive to Mzuzu to see just how barren and desolate the landscape appeared. Small communities and villages line the road North, with locals buzzing around attending to their daily business, vendors selling fruit and vegetables to passers-by and motorcycle and bicycle repair sh
ops dotting the landscape. We stopped in a small village named Tiyanjane to stock up on a few supplies for the road, and were lucky enough to experience our first taste of Malawian hospitality. While snapping a few photos of grinning locals, Michael and I were approached by Bernard, a local street vendor who made his living by selling French fries on the side of the road in one of the most ingenious hand-beaten pots I've ever seen. After chatting to Bernard for some time, we were sent on our way with a hot lunch (Note to travellers; accept and treat Malawian Peri-Peri sauce with extreme caution) to enjoy on our drive.
Our vehicle pulled into the Mzuzu Coffee Suites in the early evening, and weary from the trip and driving habits of some of the locals, we decided that an early night was the order of the day. Fortunately for us, Mzuzu's top-rated establishment was within walking distance – an idyllic space run by a lively Italian expat, Makondo Camp serves the best pizza and pasta north of Lilongwe, so good that we went back every night. Carbo-loading complete, we returned to the coffee suites for an early night, for in the morning, our coffee journey would begin.
I was awake and snapping photos before the sun rose (I seem to be making a habit of this) partly due to my excitement to meet some of the local producers, but mostly because living on the equator is a little extreme for my Irish sensibilities, not to mention the horrors it inflicts on curly hair. Once the frizz had been tamed and multiple Aeropresses made, we were shuttled a short distance to the offices and laboratory of the Mzuzu Union.
It was here that we were introduced to Mr Harrison Kalua – the gentle, well-spoken and incredibly jolly Chief Executive of the Mzuzu. Harrison was able to share with us a little bit of history behind the organisation, the principles of production which they hold sacred, as well as his vision for the future of Mzuzu, as well as the 3500 farmers which produce for the Union.
Prior to the year 2000, the coffee industry was controlled and operated under strict government supervision and directives, and as such, quality of coffee as well as annual production was incredibly inconsistent. After the deregulation of the industry, Mr Kalua, who had been working for the Malawian Department of Agriculture, saw an opportunity not only to improve the quality and quantity of Mzuzu and Malawian coffee as a whole – but also an opportunity to improve the livelihoods of the people who were producing that coffee.
Through strict implementation of procedures for quality control, the establishment of multiple washing stations on almost every estate and the continual education of producers has meant that the annual yield of coffee from the Mzuzu co-op has grown from 60 tons in the year 2000 to just over 500 tons in 2016. Mr Kalua is hopeful that by 2020 the Mzuzu Union will be producing upwards of 1000 tons per season. The Union comprises of 6 co-operatives employing between 3500 and 4000
independent producers, 25% of which are women. These co-ops are situated at high-altitude between 1700 and 2000m above sea-level, with coffee grown under indigenous shade trees, ensuring a healthy, dense bean.
This incredible surge in production has not compromised quality in the slightest, quite the opposite in fact; in 2015 the Mzuzu co-op took the top 5 spots at the East African Taste of Harvest competition. This can be partly attributed to the insane levels of quality control at the processing facility. The factory, which at the time of our visit was packed to the rafters (quite literally) with green beans, is also home to an enormous automatic green bean sorter. This behemoth of a machine uses pneumatic pressure to drive beans from ground level up to a massive hopper and once inside, the beans are distributed over tiered vibration platforms, which sort the beans by size into corresponding bags. From this point, the beans are then transported into another warehouse about 20 feet away.
This second warehouse is occupied by 350 ladies who are tasked with the meticulous process of re-sorting these beans by hand, ensuring that the automated sorter hadn't made any slip-ups, as well as to keep an eye on any and all defects in the batches. Frome here, samples from each batch are sent to the cupping laboratory where they are sorted for a final time before the samples are roasted and cupped to ascertain flavour profiles and weed out any defects. It is through this quality control process that Mzuzu are able to achieve the level of consistency and quality of coffee that is shipped around the world.
What makes these figures even more impressive is the effect that the co-op has had on the lives of the producers; with the average Malawian earning approximately 700 Kwachas per day (R13.20 or 96 U.S cents at the time of writing). With this in mind, Mzuzu have made the pledge to provide each smallholder farmer with adequate housing (Iron rooves, plastered walls and cement floors), 3 square meals per day, adequate clothing and bedding for the families as well as free education for the children of those producers. At the time of our visit, most of the houses had been fitted with solar panels, allowing the farmers access to free electricity – a luxury that very few can boast of.
After our meeting with Mr Kalua, we were escorted to the cupping laboratory, where the head of quality control and trading was waiting for us. Christopher's passion and excitement for coffee is evident and immediately infectious. He had arranged for us to cup 16 samples from the estates around Mzuzu, and eagerly led us through the cupping process. Quite caffeinated, I selected my choice of coffee from the 16 samples, and with a wry grin, Christopher explained that this particular bean was from the Usingini estate on the Tanzanian border – the estate which we would be visiting the next day. Much like the quality control process, traceability of beans from the Union is second to none; Christopher was able to give me the date of harvest, the date of processing, field number and name of the farmer who produced my cup of choice. This kind of thing makes me giddy with excitement.
With the first day of cupping concluded, we were once more loaded into our vehicles and taken to visit local small-holder farmers at their washing station – where we were welcomed by the warmest and accommodating farmers and their wives, who took us on a tour of the washing station, and their modest plantations. What was remarkable for me was how these communities support each other, both financially and otherwise; we were lucky enough to attend a community meeting of women, who had set up their own credit facility to help battling members of the community. Through this facility, community members donate a certain portion of their salaries to the 'bank' on a monthly basis, they are then able to approach the 'bank' and withdraw any amount of money they require, as well as negotiate the repayment period, and interest rate –freeing them from dependence on financial institutions. Full of dust, and excitement, we retired for the day – eagerly anticipating our trip to Usingini the next morning.
The drive to Usingini is perilous to say the least. The best way I can describe it is driving, nay drifting up Sani Pass for two full hours. The drought has had a terrible effect on the roads in the area, filling the dirt paths with an incredibly fine dust that required a great deal of skill to navigate. Upon our arrival, we were introduced to the Chief Operations Officer, Bernard Kaunda and Estate manager Joseph Chiomba. These two gentlemen are extremely passionate about coffee cultivation, and were very eager to show us what they had been working on and producing this year.
Since 2011, 137.6ha (364,000 trees) have been planted on the estate, ranging in varietals including Geisha, Costa Rica, and Catimor 129. Bernard explained that the Geisha and Costa Rican varietals were the mainstay of the farm, being hardier plants which were easier to produce, but also due to the surge in popularity of the Geisha varietal in particular.
After a tour of the fields, we were shown around two nurseries', which fostered plants until they were ready to be planted. Within these nursery's sat 75000 new coffee trees awaiting plantation this season. Usingini has also invested in the construction and stocking of a new dam, which supplies the nearby fields with water, but also supports a great number of small fish, which the farmers are welcome to catch and consume. The estate is also committed to growing vegetables and fruit such as tomatoes, cabbage, maize, cucumbers and eggplants, to help sustain the farmers and bolster their own individual crops. There are also plans to build a new school on the farm as well as a brand new medical centre specifically for use by the farmers.
As we ended our tour, we drove past a clearing which contained an odd collection of armchairs under the canopy of indigenous trees; this would be our lunch stop for the day, as arranged by the farmers. Incredibly humbled, we engaged with some of the farm employees who were thrilled to be able to chat to coffee buyers and hear about just how popular their coffee is on the global market. These people are special.
Exhausted, yet incredibly awake, we made our way back down the mountain back towards Mzuzu for our last evening in the country. As we descended the steep dirt track down through the mountains, I couldn't help but reflect somewhat emotionally on everything we had witnessed and experienced in our short two days in Malawi. The warm hospitality that we had been shown even by smiling strangers, eager to have their photo taken and to share with us a little bit about who they are. Energetic and cheerful children playing on the side of the road with nothing more than bicycle rims and deflated soccer balls on bare-earth football pitches. I found myself hoping that somehow, my passport had been stolen by mischievous simians and I'd be able to stay for just a little while longer. Alas, my passport was located, and with the long road ahead of us, we left Mzuzu as the sun rose – a more idyllic view could not have been asked for as the pink sky met the hard granite cliffs on the road to Lilongwe.
Although short, our trip to Mzuzu opened all of our eyes to the effort, care, passion and warmth of both the farmers and employees of the Union, but also of the Malawian people as a whole. We returned to South Africa with renewed energy and excitement, partly because of the 40 samples of coffee cupped over two days, but mostly because we had gained a knowledge and experience that can only be attained through the positive and healthy relationship between producers and coffee buyers, distributors and roasters alike.
We'll see you again in 2017, Mzuzu.