Welcome to Terbodore Bakery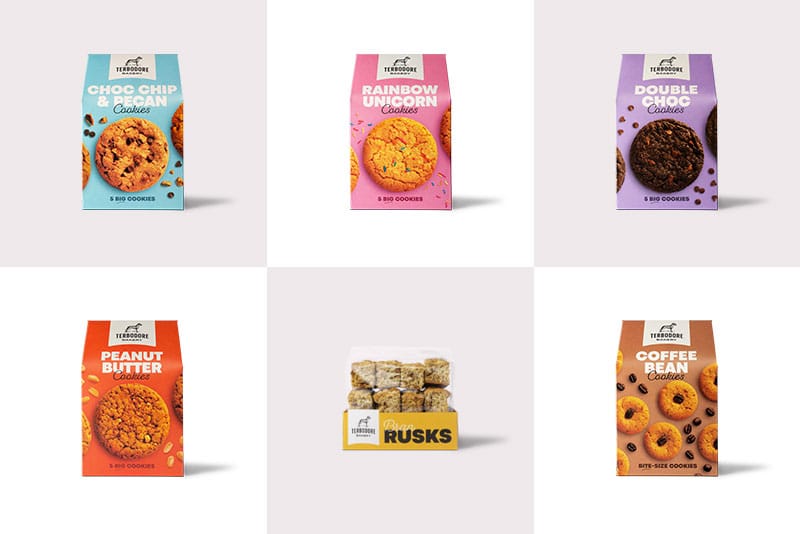 We've been baking delicious treats in our cafés for years, but why not share the love? This was our thinking when we created Terbodore Bakery.
At launch, we have introduced five amazingly delicious cookie options along with a pack of rusks. And there is more to come! Watch this space!
Rainbow Unicorn
What's a Rainbow Unicorn we hear you ask? Well, it's simple. It's a yummy birthday cake inspired cookie, with vanilla buttery notes and rainbow sprinkles.
But that's not the most awesome thing about it. The most awesome thing is that 6-year-old Quinn Macaskill came up with the name!
Double Choc
A delight for anyone who loves chocolate. Our handmade Double Choc Cookies feature real pieces of chocolate in them and are seriously indulgent.
Choc Chip & Pecan
A handmade Choc Chip & Pecan Cookie made using only the best ingredients. They're pillowy soft and layered with dark chocolate chips and pecan nuts.
Peanut Butter
A handmade Peanut Butter Cookie made with real peanut butter and peanuts. Oh yes!
Coffee Bean Cookies
Enjoy these handmade Our handmade Coffee Bean Cookies have been a Terbodore favourite for years. Perfect little bite-size cookies to go with your coffee.
Bran Rusks
Is there anything more South African than dipping your rusk in a cup of coffee in the morning? We don't think so. Our handmade Bran Rusks are a must have with your favourite Terbodore coffee. Dip and enjoy.
Our new Terbodore Bakery range is available from our online shop, at our cafés and through Yuppiechef. Enjoy with family and friends or gift it to someone special.